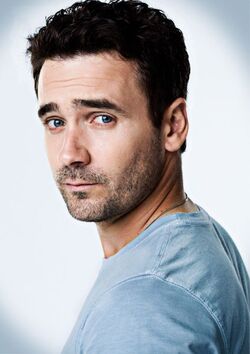 Allan Hawco is a native of Goulds, Newfoundland and a graduate of the National Theatre School of Canada, he is one of the country's most exciting young actors.
As co-creator, Hawco writes, stars and is one of the executive producers of the hit CBC television drama "Republic of Doyle". Hawco plays Jake Doyle, the roguish and irreverent private investigator at the center of a colourful cast of characters who live and work together as an extended family while they try and run a "gumshoe" racket in contemporary St. John's, Newfoundland.
He has previously starred in some of the most interesting and acclaimed television dramas including "ZOS: Zone of Separation", an eight-part series about the life and death struggle to enforce a United Nations-brokered ceasefire in a middle European country. (Movie Network, 2008). the political thrillers "H2O" (CBC, 2004) and its sequel "Trojan Horse" (CBC, 2007) and the World War II drama "Above and Beyond" (CBC, 2006).
Allan's feature films include a starring role in the upcoming "Love and Savagery" directed by John Smith. The film recently opened the St. John's Women's Film Festival. He also recently appeared in a supporting role in Sir Richard Attenborough's "Closing the Ring" (2008 nomination Best Film, Irish Film and Television Awards) with Christopher Plummer and Shirley MacLaine.
Hawco has worked in several established theatres in the country. Select credits include the title role in Romeo and Juliet; (Shakespeare Works) and Richard III (RCA Theatre) as well as The Shape of Things (Canadian Stage Co.), The Cripple of Innishman (Centaur Theatre; Dir: Ben Barnes), Macbeth (Festival of Classics), Salt Water Moon (Saidye Bronfman Centre); You Are Here (Theatre Passe Muraille); La Ronde and Present Laughter (SoulPepper Theatre).